2023-2024 PTA Board Members
President- Ashley Heber
President Elect- Melissa Baker
Secretary- D'Andra Andrews
Treasurer- Susan Ah-Sha
Book Fair- Elizabeth LeFevre
As always PTA is looking for volunteers to help make this year fabulous for our students and staff. We'd love to have you join us! Contact any of our board members here: oquirrhpta@gmail.com to volunteer.
Don't forget to find & "Like" us on our Oquirrh Elementary PTA Facebook page for updates on upcoming events!
2023-24 Oquirrh PTA Minutes of Meetings:
11/1/2023
**PTA is looking for volunteers to help with events throughout the year. 2023-24 PTA Memberships are available for $5 in the school office or by electronic membership payments. This is a great way to help support our school to help fund field trips and extra curricular activities for our students. This year's memberships will come with a gift certificate to the Scholastic book fair!
PTA is the oldest and largest volunteer association in the United States working exclusively on behalf of children and youth. The PTA is a strong and vocal political body.
It's mission is threefold:
To support and speak on behalf of children and youth in school, in the community, and before governmental bodies.
To assist parents in developing the skills they need to raise and protect their children, and
To encourage parent and public involvement in the public schools of the nation.
Reflections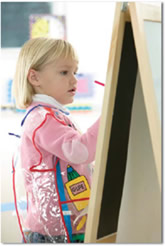 For 40 years, the national PTA Reflections Program has encouraged students across the nation and in American schools overseas to explore their artistic talents. The PTA Reflections Program is designed to enhance quality arts education for students in preschool through grade 12, encouraging them to create works of art in the areas of dance choreography, film production, literature, musical composition, photography, and the visual arts. Supporting the PTA Reflections Program is one way you can encourage children's creativity, increase student achievement, and promote the arts in your home, your school, and your community
More than half a million students participate in the Reflections Program through their local PTAs each year—and their works are recognized at the local, council, regional, state, and national levels.
 ***The Reflections Theme for the 2023-2024 school year is:***
"I Am Hopeful Because…! "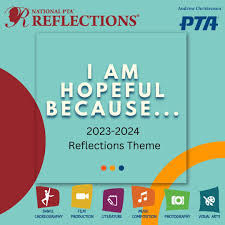 Submit art in the following categories: Dance, Film Production, Literature, Music Composition, Photography, and 2D & 3D Visuals Arts. Submissions due by October 6th. More Reflections information can be found HERE.