PRINCIPAL'S MESSAGE, NOVEMBER 27

The holiday season is quickly approaching! We continue to work purposefully on our learning goals for the year and look forward to our growth academically. Contact your child's teacher to see how you can partner with us academically at home (especially during the upcoming school breaks). With the arrival of colder temperatures, please make sure you are sending your children to school with coats, gloves, etc. If you are in need of winter gear for your children, please contact the school.
We encourage you to visit SKYWARD often to check grades and school lunch balances. While visiting the SKYWARD Family Access site, please make sure your account information is accurate. Please update your phone numbers, email addresses, and/or emergency contacts as they change throughout the school year.
TRANSLATE SKYWARD INTO ANY LANGUAGE
Watch this short YouTube video to find out how. [Traducir SKYWARD al español. Mire este vídeo de YouTube para ver cómo.]
WINTER RECESS, NO SCHOOL DECEMBER 22 - JANUARY 2
• Thursday, December 21 is an Early Out Day @ 1:00PM.
• January 2 is a Professional Development day for teachers; students do not attend.
• We look forward to having our students back at school on Wednesday, January 3.
OQUIRRH FAMILY LEARNING CENTER PRESCHOOL
Children who have turned 4 as of September 1, 2023 are welcome to join our Family Learning Center Preschool. Classes will be offered for free two days a week (beginning September 11th). Each child must have an adult with them for each session in order to attend classes. Please call our office at 801-565-7474 to register your child.
INFORMATION FROM MRS. ROBINSON
Our school social worker, Mrs. Robinson, has supported many students and their families during the last five years. As a result of her work, she's put together a list of helpful resources for parents. Please see a letter from her at THIS LINK, and a flyer about free parenting coaching at THIS LINK. 
JORDAN DISTRICT PRESCHOOL
We're excited that a Jordan School District Child Development Center Preschool program is at our school this school year! Please see more information on this FLYER. 
BULLYING PREVENTION SEMINAR RECORDING
Jordan School District recently sponsored a one hour bullying prevention seminar through the Cook Center. Several of our school staff members watched it and found it very useful. The seminar was focused on helping families understand bullying and how to support their children. A recording of the seminar is available for free at THIS LINK.
WELLNESS CENTER and MOVE THIS WORLD
You may have heard your student talk about Move This World. It's a set of lessons and videos each of our classrooms use every morning and afternoon to help teach social emotional learning skills. The company has recently released a family version of the materials so you can have access to the ideas and videos at home too. See more information in the letter HERE.
Oquirrh opened a fully-staffed Wellness Center in August 2019! Watch a short introduction video HERE to see more about how it works. A 10-minute visit to the Wellness Center gives all students an opportunity to regroup, recharge, and proactively manage their emotions in healthy ways. We understand that learning can be hard work and sometimes the social-emotional part of a child's day can be especially challenging. A trip to the Wellness Center can provide needed support and a safe place for students to prepare to get back to work in their job as students and friends in our school community. Check out THIS WEBSITE to see more information about Move this World, a program we use to help our students learn how to develop emotional intelligence for long-term wellbeing.
PTA
2023-24 PTA Memberships are available for $5 in the school office or by electronic membership payments. This is a great way to help support our school to help fund field trips and extra curricular activities for our students.
Thank you for your continued support. Please call us with your questions at 801-565-7474 from 8:15-3:45, Monday through Friday.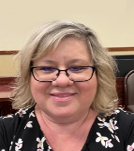 Jennifer Ludlow
Principal