PRINCIPAL'S MESSAGE, MARCH 24

Thank you for your support during the 2022-2023 school year--we continue to work hard, be kind, and keep getting better! 
CONGRATULATIONS TO OUR B.O.B. PARTICIPANTS
A big thank you to our PTA, staff, and students that participated in the Battle of the Books competition. Our 4th, 5th, & 6th grade students as well as many staff members worked hard this year reading from the list of 12 featured books. See a photo in the above slide show of the winning teams. The B.O.B. book list for next year will be available to students in April.
NO SCHOOL MARCH 27-31
School will not be in session for Grade Transmittal Day and Spring Recess the week of March 27th. Have a safe Spring Recess (remember to read each day). We will look forward to having our students and staff back with us on Monday, April 3rd.
CONGRATULATIONS TO VICKI ROBINSON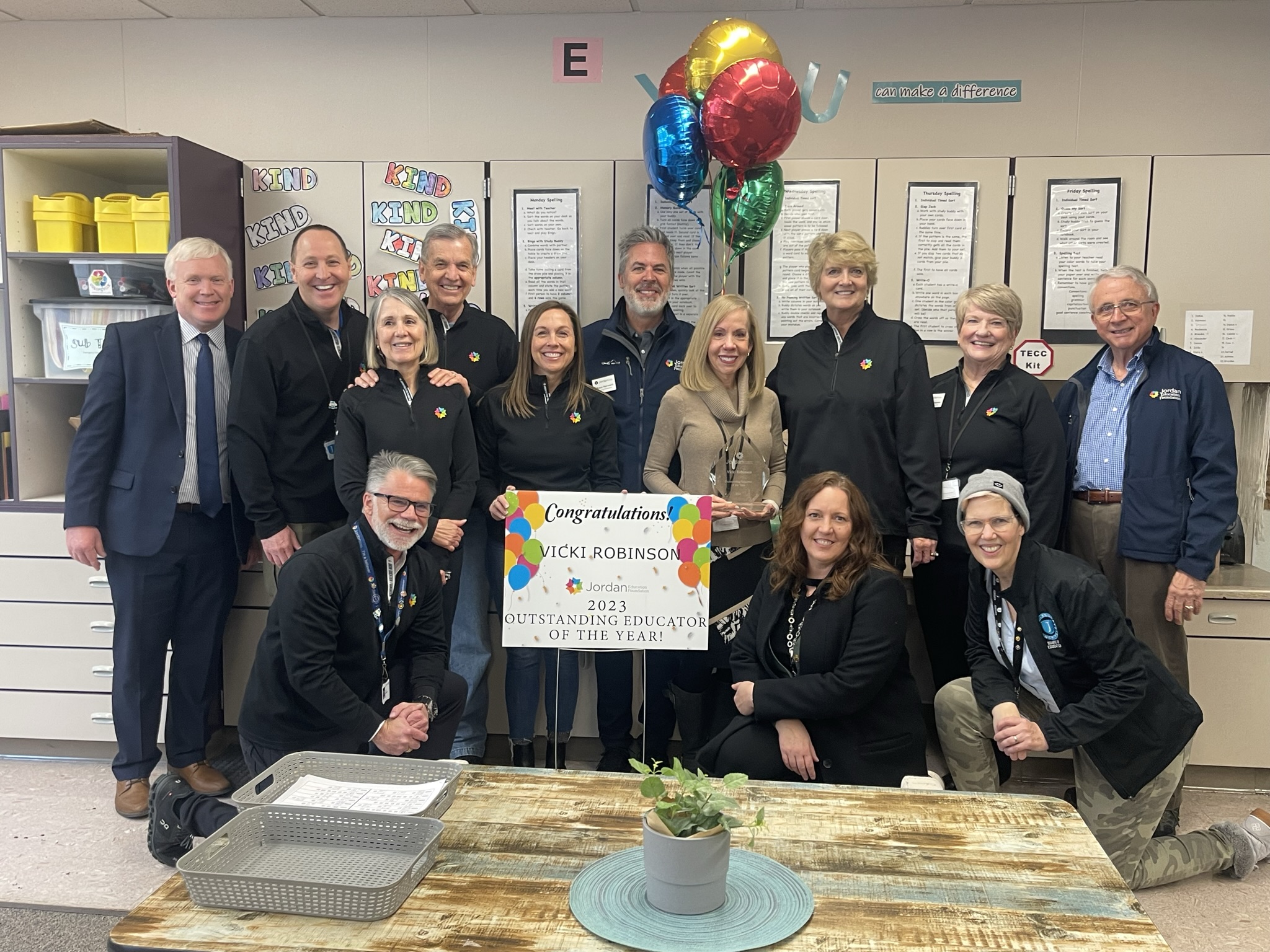 Vicki was named Jordan Education Foundation 2023 Outstanding Educator for our school and was surprised by the Foundation, JSD Superintendent, and others on Monday as they came to honor and congratulate her with this award.
PRINCIPAL CHANGE, JULY 1, 2023
The Jordan School District Board of Education has approved a principal change for our school that will begin on July 1, 2023.
MESSAGE FROM SHAUNA WORTHINGTON: (EN ESPAÑOL)
I am grateful for the opportunity to spend a few more months working with you, your children, and our staff. I have thoroughly enjoyed serving our community and will always cherish the relationships I have developed here. I am very proud of the work we've accomplished during the last five years - especially as we've faced the many challenges of a worldwide pandemic together. Your children have been a great joy in my life, and I sincerely love being with them each day. Thank you for sharing them with me. I think I will miss them the most!
I thought you'd be interested to know that I started working on a doctoral degree last June, and I've really enjoyed the experience. I'm learning a lot that I hope will benefit students, families, and staff for years to come. The Jordan School District Board of Education has granted me a one year sabbatical that will begin on July 1, 2023 and will allow me to focus on my studies. When I return from sabbatical, I will be given a new administrative assignment.
I'm very excited to introduce you to Oquirrh's new principal, Jennifer Ludlow. I have great confidence in her abilities and know she will love our community. She's currently the principal at West Jordan Elementary, which will be closing its doors at the end of this school year due to building safety concerns. She is looking forward to joining Oquirrh in July and continuing the many great things that are happening here, while also contributing her unique talents and skills. I have known Ms. Ludlow for several years and think you will really enjoy working with her. She also speaks Spanish!
Thank you again for your consistent support and encouragement during my time at Oquirrh. Please let me know if you have any questions or concerns about this upcoming change. Rest assured that I will remain fully committed to our students, families, and staff for the rest of this school year. I'm looking forward to the fun we will have together!
COMMUNITY TITLE I INFORMATION
Have you ever wondered what benefits our school receives from being designated as a Title I school? If so, please contact our principal, Ms. Worthington, to learn more. You can see an updated executive summary of our Title I plan HERE, an updated parent compact HERE, and an updated parent and family engagement policy HERE.
MORNING DROP OFF TIMES
We've noticed quite a few students coming to school really early in the mornings. Please remember that our school doesn't provide student supervision until breakfast begins at 8:10 each morning. Teachers will begin outside supervision duties at 8:20 each morning, and students will lineup for class when the music starts playing at 8:37.
OQUIRRH PRESCHOOL
We're excited to re-open our Family Learning Center preschool! Children who have turned 4 as of September 1, 2022 are welcome to join. Classes will be offered for free two days a week from 8:40-11:00. Each child must have an adult with them for each session in order to attend classes. Please see more information on THIS FLYER and call our office at 801-565-7474 to register.
JOB OPENINGS AT OQUIRRH
We are currently looking for several part-time hourly employees to work with our students. Please consider applying or sharing the information on THIS FLYER with people you know so we can work toward being fully staffed. Apply for positions at THIS LINK.
BULLYING PREVENTION SEMINAR RECORDING
Jordan School District recently sponsored a one hour bullying prevention seminar through the Cook Center. Several of our school staff members watched it and found it very useful. The seminar was focused on helping families understand bullying and how to support their children. A recording of the seminar is available for free at THIS LINK.
WELLNESS CENTER and MOVE THIS WORLD
You may have heard your student talk about Move This World. It's a set of lessons and videos each of our classrooms use every morning and afternoon to help teach social emotional learning skills. The company has recently released a family version of the materials so you can have access to the ideas and videos at home too. See more information in the letter HERE.
Oquirrh opened a fully-staffed Wellness Center in August 2019! Watch a short introduction video HERE to see more about how it works. A 10-minute visit to the Wellness Center gives all students an opportunity to regroup, recharge, and proactively manage their emotions in healthy ways. We understand that learning can be hard work and sometimes the social-emotional part of a child's day can be especially challenging. A trip to the Wellness Center can provide needed support and a safe place for students to prepare to get back to work in their job as students and friends in our school community. Check out THIS WEBSITE to see more information about Move this World, a program we use to help our students learn how to develop emotional intelligence for long-term wellbeing.
PTA
2022-23 PTA Memberships are available for $5 in the school office or by electronic membership payments. This is a great way to help support our school to help fund field trips and extra curricular activities for our students.
We hope you have a really enjoyable Winter Break. Thank you for your continued support. Please call us with your questions at 801-565-7474 from 8:15-3:45, Monday through Friday.
-Shauna Worthington, Principal