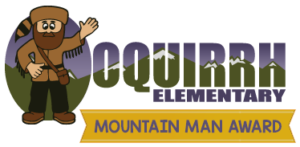 Earn your Mountain Man Award by completing the required number of goals for your grade.
Students have the opportunity to earn the Mountain Man Award each school year by completing grade-level academic achievements and extended learning activities. We hope all students will actively participate in this program. We look forward to recognizing each student's growth and accomplishments!
Each grade has unique goals to accomplish. Please refer to the appropriate grade-level document at the right for award requirements and activities. New Students coming to Oquirrh during the 2023-24 school year, please contact your teacher for modified award expectations.